CARAMOR® – The FRESCOLORI® Marbleplaster
Living in its nicest form. The CARAMOR® is the heart of our manufactory. The most valuable elements of our CARAMOR® are the almost 100 % natural ingredients: fine limestone and Carrara marble. Because its simplicity emphasises its natural beauty, being robust and durable.
CARAMOR® regulates your room climate and is sustainable. Surfaces that invite you to take a breath and relax – they offer an entirely new living experience.
We offer you a wide variety of structural possibilities thanks to different grain sizes. Add extra accents by choosing different effect materials – to underline the natural radiance of your wall, or to set, for example, reserved highlights.
Layered combined and applied, your own surface results are now created. Various surface finishes help you to make our CARAMOR® usable even for more sensitive areas. Our CARAMOR® is always totally dyed through and can take any colour: a refreshing, lively or gently balancing and soothing one. At your request, we add natural colour pigments to our recipe.
Our entire FRESCOLORI® limestone marble plasters are manufactured exclusively for you in our manufactory in Bocholt. Using a secret formula, the product is subject to a maturity of four days – our quality promise to you from Germany – "Made in Germany".
The FRESCOLORI®– Marbleplaster
Live in style with FRESCOLORI® products, whose structures radiate naturally thus creating a comfortable relaxing environment.
The variety of structure combined with colour and finish makes FRESCOLORI® products unique. The assortment of five ready-to-use basic plasters only differ in colour, white or neutral, and in grain size. The combination of different grain sizes and pigmentation not only gives us an unlimited variety of creative possibilities but also enhances the sensitive shading of the wall or floor surface. We offer a range of over 100,000 colour combinations, which allows the creation of an endless variety of shading, as well as subtle finishes whether for wall, floor or bathroom. Your wish is our command!
Lime Circle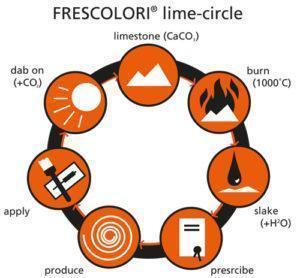 Limestone, the main ingredient in FRESCOLORI® lime marble plaster, goes through a burning process in the limekiln in which outcome lime (calcium oxide) is produced. Through the quenching process, slaked lime (calcium hydroxide) is generated.
Slaked lime is used in our products. The water evaporates after application to the wall or ceiling. On the other hand CO2 is absorbed from the surroundings. Through this process the slaked lime returns to being limestone with all its natural quality characteristics. Through completion of this cycle we create a real natural surrounding for you.