PREMIUM APPLICATOR BENEFITS
In order to be able to offer, purchase and apply the limestone marble plasters by FRESCOLORI® as a premium applicator a specific professional training is required. Successful participation in the one day base training which takes place regularly here in Bocholt is a prerequisite. If jointless floors, showers and bathrooms are to be offered as well an additional one-day seminar must be completed which, for the most part, is offered and booked in combination with the basic training. If you successfully complete these seminars you are an official and certified FRESCOLORI® applicator and you will position yourself in your area as a premium applicator for creative techniques. Differentiate yourself from your local competitors as a specialist for exceptional, elegant design and offer your customers a clear added value through unique, individual surface designs by FRESCOLORI®.
Painting companies, plasterers and professional applicators who combine, or would like to combine, high quality work, sustainable quality as well as creative space solutions and special techniques, are warmly invited to participate in our trainings.
You will get to know the material and the partially exclusive application of our limestone marble plasters and can then offer even your most demanding clients a true added value using special and exceptional surfaces, creative techniques as well as countless design options.
Basic training, 1 day
The basic seminar begins with a tour of our exhibition and production areas. During the course of the day you will apply our CARAMOR® limestone marble plaster using various techniques on sample panels which you may then take with you. In doing so you will learn about the product-specific features and many design options.
This seminar is the absolute prerequisite in order to be able to apply FRESCOLORI® products.
Shower & floor training, 1 day
The jointless application of our limestone marble plaster in wet areas (PURAMENTE®) or on the floor (MARANZO®) goes along with special knowledge and techniques which are focused on specifically in this seminar.
This seminar is the prerequisite in order to be able to apply FRESCOLORI®-Products in shower and floor areas.
The basic training must already have been completed for this seminar.
Real metal training, 1 day
Only the application and processing of the FRESCOLORI® real metal variants will be covered in the real metal seminar.
This training is voluntary and may be booked without having completed the basic training.
Advanced training, 1 Tag
This seminar is aimed at already trained and experienced applicators who want to deepen their skills and knowledge. In addition to individual and personal subjects and questions, special surfaces and techniques will be explained and practically implemented. This includes, among others, the surfaces Calco, Struktur 13, FrescoArt, Cracked, Bark and Muddle.
This seminar is voluntary, however, the basic training must already have been completed.
All seminars generally take places here in Bocholt due to the better structures (exhibition rooms, factory, training rooms etc.).
In the event of sufficient demand and flexibility with scheduling we will also train in Munich, if necessary. This will only be possible beginning again in the Fall of 2019.
If you like, we will also train you and your employees on site. Feel free to contact us.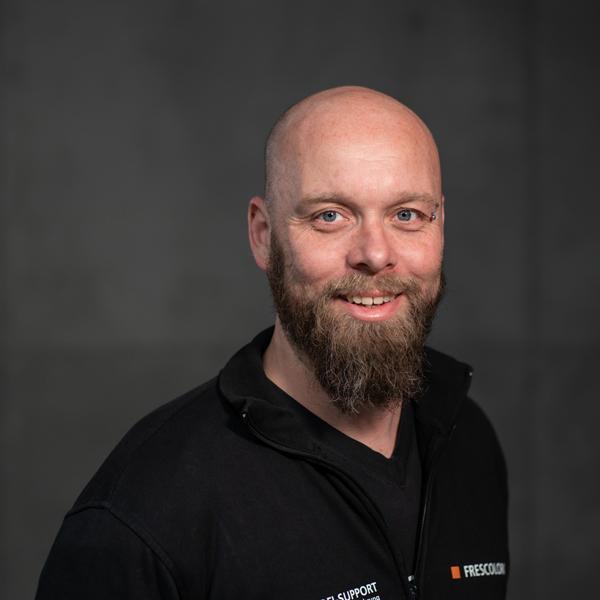 Carsten Daniel
Technology & Support, Trainer
painter and varnisher
Frescolori
0
Days
0
Hours
0
Minutes
0
Seconds