TRAINING, EDUCATION AND SEMINARS
PREMIUM PROCESSOR ADVANTAGE
As a future partner of FRESCOLORI, we attach great importance to the professional processing and safeguarding of FRESCOLORI standards in order to meet and exceed the qualitative demands of our end customers. For these reasons, our partnership begins with a two-day qualification as a processor for our products. During the two days, we will teach you the professional handling as well as specific product knowledge for a trustful and effective cooperation.
Based on your skills and our high-quality products, we look forward to great joint projects with you. We value reliable applicators with a passion for stylish surfaces and high-quality results. Afterwards, we would be happy to convince ourselves in practice of your implemented projects with the FRESCOLORI brand.
Follow a manual added link
Painters, plasterers and professional finishers who combine or would like to combine high-quality work, sustainable quality as well as creative room solutions and special techniques are cordially invited to attend our training courses. Feel free to apply for a training place and we will see what we can do for you.
You will get to know the material and the partly special processing of our lime marble plasters and will then be able to offer even your most demanding customers a real added value through special and noble surfaces, creative techniques as well as an infinite number of design possibilities.
EVEN MORE DESIRE FOR PRODUCTS OF THE BRAND FRESCOLORI?
BUILD-UP & CREATIVE TRAINING, 1 DAY
Dieses Seminar richtet sich an bereits trainierte und geübte Verarbeiter, die ihre Fähigkeiten und Kenntnisse vertiefen und erweitern möchten. Neben individuellen
This seminar is aimed at already trained and experienced fabricators who would like to deepen and expand their skills and knowledge. In addition to individual and personal topics and questions, special surfaces and techniques will be explained and practically implemented. These include the surfaces Calco, Duktus, FrescoArt, Cracked, Bark and Muddle.
This seminar is voluntary, but the basic training course must already have been completed.
REAL METAL TRAINING, 1 DAY
In the real metal seminar, only the application and processing of the FRESCOLORI® real metal variants is trained.
This training is voluntary and can be booked without having already completed the basic training.
All seminars are generally held at our premises in Bocholt due to the better structures (exhibition rooms, manufactory, training rooms, etc.). If you wish, we can also train you and your staff on site. Please feel free to contact us.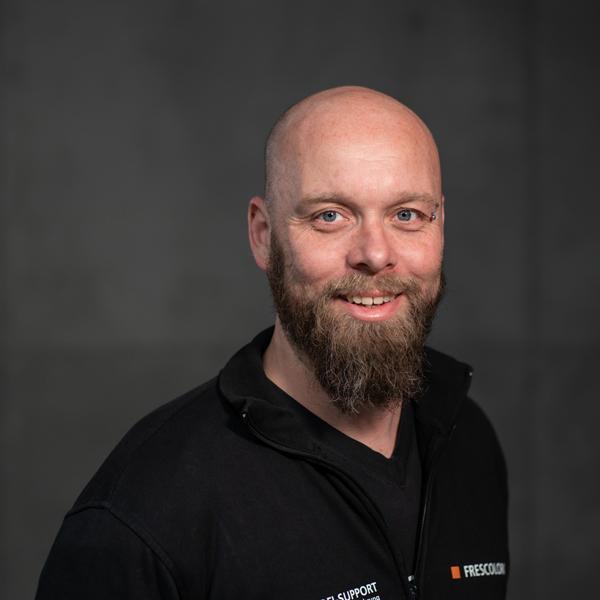 Carsten Daniel
Technology & Support, Trainer
Painter and Varnisher
Frescolori
BIS ZUR NÄCHSTEN SCHULUNG