FRESCOTON®– plastered concrete
FRESCOLORI® has developed an incredible surface –
concrete optics for an inspiring ambiance with a loft feel – FRESCOTON®.
The FRESCOTON®, which has received several international awards, is a novel filling compound, with fascinating properties: It can be applied to any substrate – whether it is plasterboard, plaster, plastic, metal or wood – and it produces a surface that looks as if cast from concrete, but it is almost 100% natural! By reducing it to the essentials, by the coolness and clarity of the material, the concrete optics free your mind for unusual ideas and inspire the imagination. Enjoy the inspiring ambiance of natural living and surround yourself with a flair of urban life.
What makes FRESCOTON®so unique?
Could it be its recipe, its consistency? Its natural sustainability, its diversity? Or the fascinating atmosphere it creates? The answer lies in any and all of these: FRESCOTON® is a solution with many benefits! Its extraordinary materiality is due to a filling compound consisting mainly of Carrara marble. As a surface, this high-quality material mixture unfolds a healthy and fresh room climate that invites you to breathe – and thus supports the clear, puristic appearance of FRESCOTON®: Formats, joints and even different colours, from dark grey to cream, are freely selectable. They perfectly fit your ideas and visions!
How you decide: FRESCOTON® focuses every room on its essential effect and thereby unfolds its true character. FRESCOTON® thus creates a pure, urban sense of life – a characteristic that gives it the ability to become a classic. Spaces are transformed into habitats in which thoughts can unfold and creativity flows – a reason for the numerous awards. Find out more about FRESCOTON®: its material, its charisma, its sustainability and naturalness. Let yourself be enchanted by these lively surfaces and visit the design-oriented, inspiring business premises of FRESCOLORI® in Bocholt (or, of course, one of our certified applicators)!
Lime Circle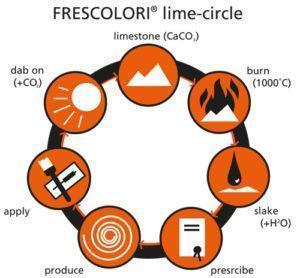 Limestone, the main ingredient in FRESCOLORI® lime marble plaster,  goes through a burning process in the limekiln in which outcome lime (calcium oxide) is produced. Through the quenching process, slaked lime (calcium hydroxide) is generated.
Slaked lime is used in our products. The water evaporates after application to the wall or ceiling. On the other hand CO2 is absorbed from the surroundings. Through this process the slaked lime returns to being limestone with all its natural quality characteristics. Through completion of this cycle we create a real natural surrounding for you.
Learn more about FRESCOLORI-®CARAMOR®
Always the right tone
FRESCOTON® is truly unique – though with a yet unrivalled versatility. Straight from the combination of surface structure and colour tone you get almost infinite possibilities of expression! Behind this is a very wide colour palette: Almost every colour is available – you wish, we create. The colour shades are individually adapted and documented. This means not only an extremely careful production but also ensures that we can recreate exactly your colour at later re-orders. You will be amazed: You will find the same FRESCOTON® creative thinking in our service!
OUTSTANDING!
Many manufacturers appreciate the products as "outstanding". We prefer to rely on the highly positive feedback from our customers and partners – but above all on the judgement of independent, savvy experts. And they are very enthusiastic FRESCOTON® has more product and design prizes than could fit on a wall …